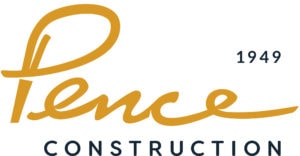 For Immediate Release: Thursday, November 1, 2018
LCG Pence Construction, LLC, an Oregon-based commercial general contractor, has officially changed its name to Pence Construction, LLC.  The new name is meant to simplify and represent the company's values while paying homage to its history. Founder, Dale Pence, is represented in the company's new logo with his signature becoming the contractor's brand focal point.
Pence is owned by Paul Schulz and Dave Hays who have been with the company for 24 and 23 years, respectively. "We wanted to honor Dale Pence and the history behind this company," Dave said.  Dale Pence General Contractor was founded in 1949 in Salem, Oregon. Time brought growth and additional names to the business including Curt Pence (Dale's son), and Terry Kelly who joined to form Pence/Kelly Construction, and eventually Terry Loerke, of Loerke Construction Group (LCG), who helped form LCG Pence Construction.
"Our values are the core of this business and we want that represented in our name and new logo" Dave said.  The new logo featuring Dale's signature pulled from old contracts represents the company's commitment to its values of keeping promises, building relationships, and staying humble. "We hope that when employees, clients, and partners see our new logo, it will remind them of who we are and what we are about."
Owners, employees and contracts all remain intact through the process. "Nothing about the company's team or priorities are changing," said Paul Schulz. "This is just the next step in our journey." Pence Construction's commitment to keeping promises is reflected in the company's growth. Pence has been named to the Portland Business Journal's Top 100 Fastest Growing Private Companies list for the past two years and ranks in the top 10 Portland general contractors in the PBJ's annual Book of Lists. "Pence's success is based on a strong foundation and a core group of values we carry with us today," said Paul Schulz. "Dale would be proud of us." Dale Pence passed away in 2001.
In business since 1949, Pence Construction is a full-service commercial general contractor, with offices in Portland, Salem and Bend. Managed by two principal owners —Dave Hays and Paul Schulz, Pence Construction builds public and private projects across a variety of sectors including multi-family housing, senior living, K-12, higher education, retail and more.
Visit www.pence.net or www.gopence.com for more information.
CONTACT INFO:  Shannon Parker
Director of BD & Marketing
Email: shannonp@pence.net
Phone: (503) 881-6240