A Building to Protect People and the Planet
Buildings that promise protection to both their occupants and the planet on equal measure are rare. Pence Construction built the 35,805 square foot, two story Treasury Resiliency Building at Mill Creek in Salem with partners from GBD Architects, KPFF Engineers, Glumac, and Dynamic Isolation Systems to meet the most rigorous of both resilient and sustainable tests.
"Environmental design, engineering, and construction are ironically at the heart of giving this building the tools it needs to survive the worst of what mother nature can do," said Pence Project Executive Philip Johnson. "Our challenge with the Treasury Resiliency Building was to respect nature's variable interactions with the built space. From the way its resources power the building to how it can cause massive damage, nature inspired this project."
The Earth-friendly building is equipped with a myriad of features designed to meet sustainability benchmarks including Net Zero Energy, International Living Future Institute, Leadership in Energy and Environment Design (LEED) Gold Equivalent, and carbon reductions of up to 40 percent. The building will produce more electricity than it consumes via solar panels, while the surplus will be used to charge the energy storage system's backup batteries.
"Our challenge with the Treasury Resiliency Building was to respect nature's variable interactions with the built space." – Philip Johnson, Pence Construction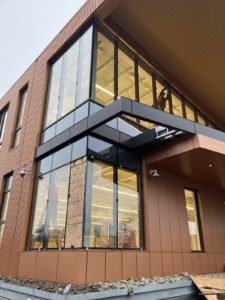 Daylighting was one of the resiliency strategies employed by the design team at GBD Architects. "If you can maximize the natural light, fewer electrical lights are draining power from the system and generating heat, it's a win/win," said the project's lead architect, Craig Stockbridge of GBD Architects. "The building's long axis faces north and south, which allows it to maximize the high-quality northern daylight, while minimizing intense western exposure." The building's lighting system uses half the energy of a typical building via the natural light design, auto dimming controls, vacancy modes, and daylight/occupancy sensors.
"This building is one tuff, smart structure," Stockbridge said.
While Treasury Resiliency Building's efficiencies offer environmental relief, the structure is also a virtual fortress. The building sits atop a seismic base isolation system designed to endure the impending Cascadia Subduction Zone event–up to a whopping 9.0 earthquake–by isolating the building's base from ground movement. This resilience equals both short- and long-term advantages.
"Life safety and maintaining critical operations and performance are generally the main focal points for seismic resiliency and specifically base isolation," said KPFF Principal Josh Richards.  "However, sustainability should also be part of the discussion. Living in a region with a high probability of a major earthquake over the life of a building creates a scenario where many structures will need to be torn down and/or reconstructed after a significant event. This potentially doubles the embodied carbon and materials required for rebuild which is contrary to the primary principles of sustainability."
Oregon's financial center is more secure than ever with this new structure while energy redundancies ensure the agency can provide services no matter the conditions following a major natural disaster. The building can operate independently through energy storage systems, onsite wastewater storage tank, emergency backup well, and extensive nonstructural engineering components.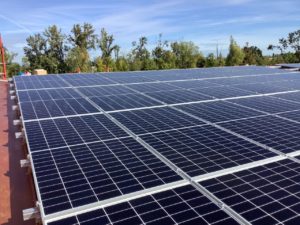 "The resilient and sustainable features work in tandem to maximize the building's functional independence," said Pence Project Manager Sydney Sanchez. "It really is a safe space for state business where the Treasury can continue operations, even following a catastrophic earthquake."
This building is the only U.S. Resiliency Council (USRC) rated structure in Oregon, and the first base isolated structure in the country to earn a USRC platinum rating.