Throughout the COVID-19 outbreak we've worked hard to maintain safe working practices. During this ongoing crisis, our commitment to clients, workers, and the community at large is a comprehensive, consistent approach across jobsites. As an essential service we understand the responsibility we have to work safely. We embrace the gravity of this responsibility and we want you to know what this means for us:
Offices
The vast majority of our main office staff have been transitioned to remote working with support from our IT department and managers;
All meetings are conducted on Microsoft Teams even when team members are all in the same office space, working in different rooms.
Construction Sites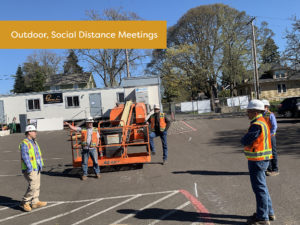 Our field workers maintain social distancing protocols. This means avoiding indoor meetings, limiting all physical meetings, and providing physical reminders/warnings to accomplish tasks over the phone or email;
We've equipped our field staff with the most appropriate PPE possible. Face coverings, glasses, face shields and gloves are required. We have donated as much of our PPE as possible to healthcare workers;
We review social distancing in every pre-task plan, and challenge every team to find new ways to maintain 6' of social distancing.  In the rare instance where it's impossible, we've established protocols included in widespread material and trainings for our Social Distance Officers to review and implement;
What's a Social Distance Officer? Exactly what it sounds like. Every office and job has one and they work to make sure the CDC guidelines are followed;
Additional cleaning services and supplies have been sourced for every jobsite;
Signage, signage, signage. Reminders are critical to maintaining safety and creating a culture of social distancing and health;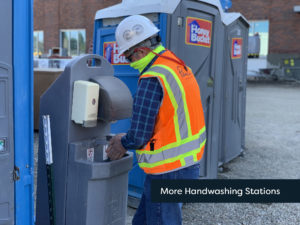 We've added more hand washing stations to each jobsite;
Consistent, daily messaging from leadership regarding COVID is the new normal. Things are moving quickly and changing often. At the end of each day we release a new "Daily Message" for our teams to review and distribute often with an updated Action Plan outlining how announcements change jobsite behavior. They include messages about new CDC guidelines and resources available;
Reporting hotline. If a subcontractor or worker doesn't feel like we're doing enough, we want to know about it. Our anonymous reporting hotline provides the feedback we need to keep people safe.
This isn't everything, but hopefully it gives our community a sense of comfort that we're working hard to keep our people safe while we keep building the schools, homes and spaces we'll need eventually.
Stay safe and healthy.