Pence Construction discusses current challenges, future outlook of affordable housing market
Featured in the Daily Journal of Commerce, December 19, 2018
Voters in the Portland metro area recently approved a $652.8 million general obligation bond to create affordable housing for approximately 12,000 people. While it most likely will take at least a couple of years for Rose City residents, developers and general contractors to see the result, the voters' approval is ultimately a positive step for Portland's efforts to increase its inventory of affordable housing.
For now, however, the market for multifamily housing remains in a downward trend, according to Dan Cowley, Project Executive for Pence Construction.
"Progressively, over last couple of years, fewer units have been going through permitting and were being built. For us, there has been a decline in the number of projects we're starting. There are numerous economic pressures leading to this trend, but inclusionary zoning is certainly a contributor," he says.
The city of Portland's Inclusionary Housing Program, initiated with the adoption of SB 1533 in February 2016, mandates the provision of affordable housing units in new multifamily residential development.
Cowley notes that the preconstruction period for affordable multifamily housing typically takes from 12 to 18 months, compared to nine to 12 months for private residential development. Steel tariffs, a workforce shortage in the construction sector, and the complexity involved in developing and financing multifamily projects have added to the downturn.
Passage of the bond measure will be a good boost for housing and Portland will see more incentives to encourage affordable housing, he adds.
"I think it will be a natural progression as market rate housing slows and that workload decreases," Cowley says. "With some creativity in partnering, getting involved early and the new ballot measure, we're really hoping to see more movement in that department."
Among the technical and practical considerations of building affordable housing and multiuse structures are accessibility and ease of use. The space needs to be adaptable for the end user and meet or exceed all jurisdictional accessibility requirements.
"We try to look at every detail from many points of view and bring that perspective and knowledge to the owner and design team before and during construction," he says.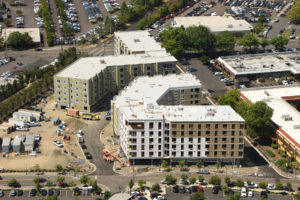 Projects come with their own sets of obstacles, and a common one they share recently is the shortage of market labor and materials. The shortages have challenged Pence to look at its sequencing of labor and treat most materials as long lead items. "It has made us a much more efficient company," Cowley says.
In its ongoing effort to save clients time and money, Pence strives for innovation in either building materials or in means and methods to add value to the projects. One example is a triple paned vinyl window made in Europe that Pence found for its clients.
"For a similar cost of a mid-range vinyl window we can achieve a much higher STC rating, better envelop performance and a much higher aesthetic appearance for roughly the same cost," Cowley says.
Among the multifamily housing projects LCG Pence Construction is working on is a $44 million development in Beaverton called The Rise Central. Situated near the city's fast-growing Central District and a MAX light rail stop, the project consists of two apartment buildings on one plot of land with a new street for the city in between. The buildings total 260,000 square feet and each has its own unique features.
The East building has a basement garage, two floors of post-tension concrete with metal studs, and five levels of wood-framed construction. The West building is one level of post-tension concrete with metal studs and four levels of wood-framed construction. Each building offers 115 units, with 15 of the 230 units priced as affordable housing.
In addition, the buildings feature a rooftop terrace, bicycle storage rooms, dog and bicycle wash stations, a fitness center, and expansive lobbies, community rooms and decks. Retail, multilevel apartments and live/work space will fill the ground floor and the apartments above are studio, one-bedroom and two-bedroom units.
Construction began in August 2017 and is due for completion this winter. The project developer, Rembold, is a repeat client of Pence. Rembold received a grant from Metro's Transit-Oriented Development Program for the project, which is the second multiuse building the developer has done in Beaverton.