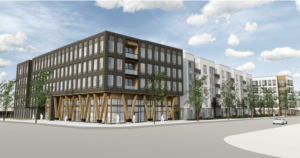 Pence Construction is looking for subcontractors for the upcoming Verso Apartment project in Beaverton.
Verso Apartments is a 172 unit, 165,000 SF apartment building consisting of wood framed levels over concrete, in a combination of 4 over 1 and 5 over slab on grade construction. There is approximately 2,625 SF of retail space located on the ground floor.
The project is located in downtown Beaverton, Oregon and is commissioned by successful local developer Rembold Properties.
Construction is scheduled to begin in June 2019.
Please visit https://secure.smartinsight.co/#/PublicBidProject/431217 to view plans and specs or contact Star Morris for access. We request that all bids be submitted by email (starlindam@pence.net) or by fax (503) 256-3684 by Thursday, April 18th at 2:00 pm.
Scope of work includes divisions 2, 3, 4, 5, 6, 7, 8, 9, 10, 11, 12, 14, 31, 32, and 33.
Divisions 21, 22, 23, 26, and 33 (fire sprinkler, plumbing, mechanical, electrical, and radon) have been awarded as design build contracts.
We appreciate your interest in this project. Please feel free to email or call Star Morris at (503) 252-3802 or starm@pence.net for any additional questions or concerns you may have.